EUROSPAR CSR Activity
Every EUROSPAR supermarket across Ireland is supporting a chosen charity in their local community. Stores are raising funds through donation boxes located within each local EUROSPAR supermarket, as well as through various activities and fundraisers during the year. Additionally, every EUROSPAR supermarket is donating 1 cent per unit of selected SPAR Own Brand products sold throughout their stores. With the support of EUROSPAR shoppers, we can continue to support local charities in local communities, enhancing the services they provide.
'Defibrillator at every EUROSPAR' Project
The 'Defibrillator at every EUROSPAR' initiative was launched in 2017 and it aims to raise funds for the installation of a publically accessible, automatic external defibrillator (AED) to be located outside each EUROSPAR supermarket around the country.
Funds will be raised in three key ways:
The SPAR Range Contribution Fund
In-store collection
Community fundraising activities
When a heart stops beating from cardiac arrest every second counts. The chances of recovery are reduced by 7 – 10% after each 60 seconds. Effective CPR coupled with the use of a defibrillator within the first 3-5 minutes of cardiac arrest can produce survival rates in the 49-75% range. This is the significance of the new 'Defibrillator at every EUROSPAR' initiative for each community in Ireland served by a EUROSPAR supermarket.
The 'Defibrillator at every EUROSPAR' initiative provides a clear message for EUROSPAR shoppers of the support for this nationwide cause that is focused, in a very tangible way, on saving lives in their local community.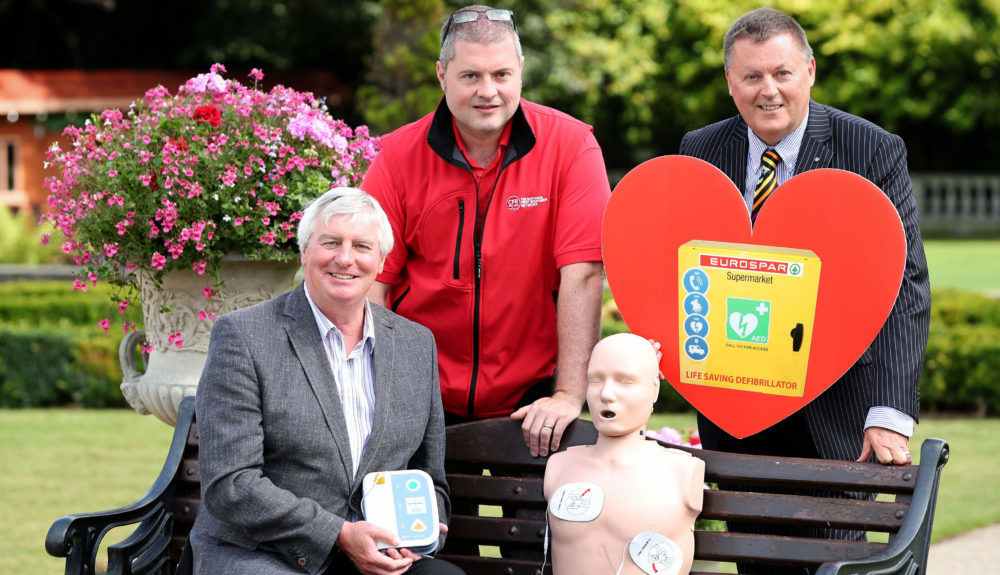 To launch EUROSPAR's new community initiative, which aims to deliver a Defibrillator at every EUROSPAR Supermarket, were Michael Lyster, RTÉ, Malachy Hanberry, EUROSPAR Managing Director and David Menzies, Co Chair and Medical Director, Cardiac First Responders Ireland.