Brand new store marks €170,000 investment by store owners and BWG Foods with creation of 10 new jobs
Occasion marked with in-store customer celebration featuring special guest appearances from Eoin Cadogan and Paul Kerrigan
XL officially opened its 200th store at The Glen in Cork city, marking a major milestone in the brand's history with an in-store party for local customers featuring guest appearances from sports stars Eoin Cadogan and Paul Kerrigan.
Originally a Greenfield site, XL The Glen is located on Glen Avenue in Cork city and currently employs 10 people, with this number expected to rise in the run up to the busy Christmas period. The brand new 1,400 square feet premises boasts everything you'd expect from a local store, including a hot and cold deli, coffee to go, grocery and a fresh fruit & veg section.
The business is truly a family affair with Ciaran and Tony supported by their partners Grainne and Susan and wider family. "Tony and I were keen to start our own business and having worked in my parents' stores when I was growing up, retail seemed the obvious choice. We spent a lot of time weighing up our options and we decided to go with XL because we liked the look and feel of the brand and were encouraged by the Development team's willingness to go the extra mile, as well as the support from the local Value Centre cash & carry."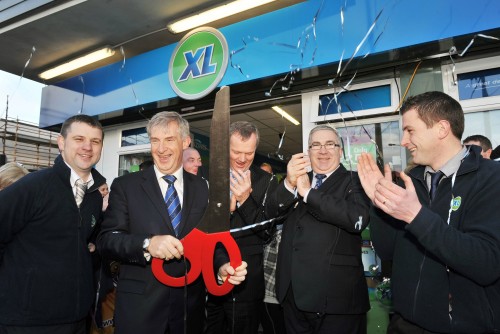 Tony added, "We saw massive potential in the site and felt there was a gap for a neighbourhood store in the local area which catered for all people's grocery needs from top-up shops, to food-on-the-go, to office catering. The locals have given us fantastic support already and we look forward to building a successful business which supports the community in return."
Managing Director of BWG Foods, Willie O'Byrne said, "Growing the brand in a stagnant market is something we don't take for granted but we believe it is testament to the hard work of our XL retailers and the expertise and experience of the XL development team. What's more, a lot of investment has been made over the last couple of years to create a vibrant and modern brand, which is appealing to consumers and we believe this has helped to deliver store growth for the group," he said.
Managing Director of BWG Foods Wholesale Division, John Moane said, "This is a proud and momentous occasion for XL and we're particularly pleased to be opening our 200th store in partnership with Ciaran and Tony as they have all the characteristics of a successful XL retailer – progressive, dynamic and enthusiastic. We're delighted to officially welcome XL The Glen to the Group and wish them the very best of luck," he said.
Cork's 96FM Street Fleet attended the opening, doing live link broadcasts from the store. There was plenty of entertainment and fun for all the family with face painting, balloon modelling, appearances from Mickey & Minnie Mouse, spot prizes and also special offers on the day.
The store offers catering to offices and parties and has a strong focus on meal deals and value with regular promotions and special offers.