Leo Crawford, CEO BWG Group (owners and operators of the SPAR brand in Ireland ) and Willie O'Byrne, Managing Director, BWG Foods with SPAR Better Choices ambassadors Claudine Keane and Seamus Coleman.
SPAR has made an investment of over €1 million in a new advertising campaign to showcase its healthy eating initiative, SPAR Better Choices. The campaign includes the launch of two separate ads, one featuring Republic of Ireland footballcaptain Seamus Coleman and the other featuring model and mum-of-two Claudine Keane.
The ads, which were filmed by Red Rage Films, produced by Paul Holmes and directed by Brian Durnin were shot across a number of locations in Dublin during January.
The core theme of the SPAR Better Choices initiative is about having the power to make the right choices in order to stay healthy. This is depicted in the ads by focusing on the two stars growing up in Ireland and the choices they made in their lives. It shows a number of scenarios where Seamus had the opportunity to make the wrong choices growing up, which would have resulted in his life turning out very differently. Similarly with Claudine's ad, it shows some of the questionable choices she made as a young girl both with her fashion and make-up choices and even choice of boyfriends.  However, in the end both Seamus and Claudine made better choices, which led to the lives they live today. It is hoped that the ads will inspire people to make positive food choices in their lives and with this new initiative, SPAR is making it very easy for people to do this.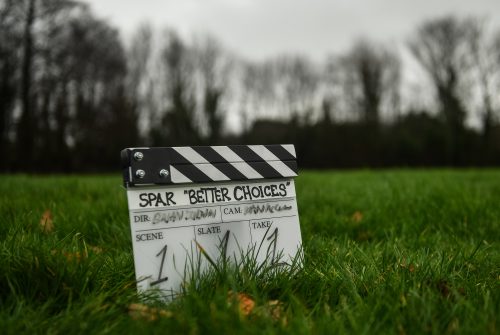 Speaking about the initiative, Willie O'Byrne, Managing Director, BWG Foods (owners and operators of the SPAR brand) commented: "We have invested very heavily in our latest ad campaign in order to demonstrate our focus on the SPAR Better Choices programme. At SPAR we are committed to providing our customers with the best product offerings across our stores. We feel passionate that eating well should be a priority and that with the SPAR Better Choices offering our customers can expect to find the right choice for them under the tree at SPAR.''
The SPAR Better Choices programme sees SPAR redefine its offering to customers, whatever their lifestyle or food preference may be, in response to changes in Irish consumers' lifestyle choices. Eating on-the-go has traditionally meant limited choice on healthy options. The brand has launched SPAR Better Choices to ensure eating on-the-go doesn't mean compromising on health and wellbeing. The initiative also caters to customers with varying nutritional needs with low fat, high protein, and gluten free products on offer.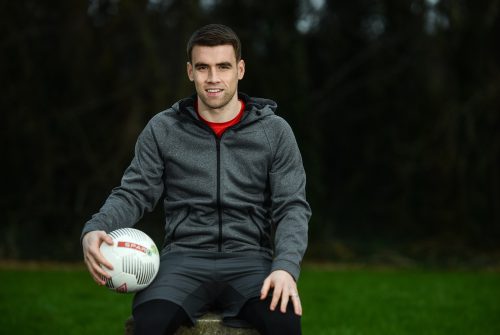 Seamus Coleman joins SPAR'S healthy eating initiative 'Better Choices' in Dublin.
SPAR has partnered with dietitian Ellen Roche, to research and carefully select which products to include in the range. A member of the Irish Nutrition and Dietetic Institute, Ellen has spent many months working with SPAR on the Better Choices range, which sees all products highlighted in stores with the SPAR Better Choices signage to offer customers guidance on choosing the best foods for their lifestyle while on the move. Snack favourites under SPAR Better Choices include fruit pots, rice cakes and yoghurts.
The SPAR Better Choices ad campaign will be rolled out across TV from 1st February. The ads will be supported by a strong digital and social media campaign.
For further information on SPAR Better Choices please visit www.spar.ie